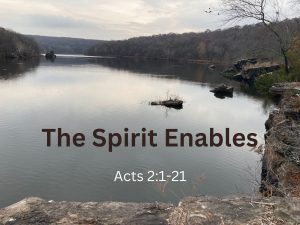 Acts is crucial for connecting the gospel accounts of Jesus to the collection of letters that make up most of the New Testament books. Acts begins with the resurrected Jesus ascending into heaven triumphantly, leaving the apostles to waiting for empowerment from on high. And power is what they get. The Holy Spirit emboldens Peter and the rest of the Twelve to boldly proclaim that Jesus is Lord to the glory of the Father.
Acts 1:1-21
Taught Sunday morning, January 15, 2023 by Brad D Harris
We hope that this online service has blessed you.  It is funded by the generous participants of Prairie Oaks Baptist Church.  If you would like to contribute to Prairie Oaks and their audio ministry, we have a donation page so that you can securely give online to help this ministry.  Thank you for listening and prayerfully supporting us.  I hope we continue to further you in your journey with Christ!
Podcast: Play in new window | Download