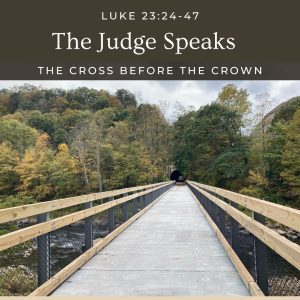 While continuing our tour of the closing chapters of John's Gospel, we supplement our picture of the crucifixion with Luke's account of the Gospel story. Having been condemned, the Judge of all the earth gives four sayings of judgment that we would be wise to hear. Words of warning, words of mercy, and words of vindication. This is Part One of Two.
Luke 23:24-47
Taught Sunday morning, November 26, 2023 by Brad D Harris
We hope that this online service has blessed you.  It is funded by the generous participants of Prairie Oaks Baptist Church.  If you would like to contribute to Prairie Oaks and their audio ministry, we have a donation page so that you can securely give online to help this ministry.  Thank you for listening and prayerfully supporting us.  I hope we continue to further you in your journey with Christ!
Podcast: Play in new window | Download