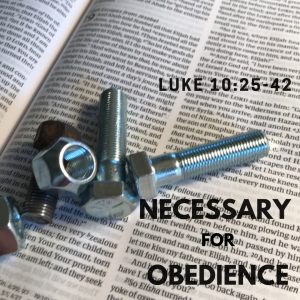 Jesus beautifully illustrated the command to love one's neighbor with the story of the Good Samaritan, where someone who had no reason to show compassion to a hurting person went above and beyond to help.  But how can one have that kind of love for another?  The following episode that Luke reports shows that Jesus answers that question for Mary and Martha.  The most needful thing is to sit at the feet of Jesus to learn of His love.
Luke 10:25-42
Taught Sunday morning, September 26, 2021 by Stuart Estes
Ministry Team Leader at Association of Baptist Students
We hope that this online service has blessed you.  It is funded by the generous participants of Prairie Oaks Baptist Church.  If you would like to contribute to Prairie Oaks and their audio ministry, we now have a donation page so that you can securely give online to help this ministry.  Thank you for listening and prayerfully supporting us.  I hope we continue to further you in your journey with Christ!
Podcast: Play in new window | Download