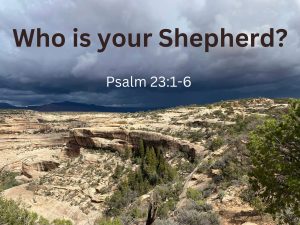 For a few minutes, we look at what is hopefully a very familiar passage of Scripture – Psalm 23.  The hope is that each of us growing increasingly familiar with not only Psalm 23 but also with the LORD, the Shepherd of Psalm 23.  Then when the trying times comes, we already have depth with the One who cares for our souls.
Psalm 23
Taught Sunday morning, April 30, 2023 by Brad D Harris
We hope that this online service has blessed you.  It is funded by the generous participants of Prairie Oaks Baptist Church.  If you would like to contribute to Prairie Oaks and their audio ministry, we have a donation page so that you can securely give online to help this ministry.  Thank you for listening and prayerfully supporting us.  I hope we continue to further you in your journey with Christ!
Podcast: Play in new window | Download