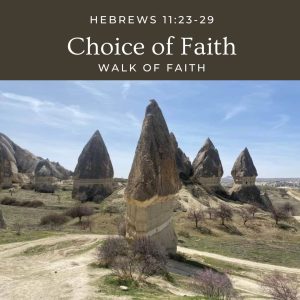 Moses was pointed in direction of faith by his birth parents and their faith. His adoptive family gave him much but when the time came, he knew that Egypt did not offer him eternal life. By reasoned faith, Moses chose to pursue long-term gain and reward even if it cost him short-term pain and loss. He looked to the reward over following fear. And his courageous faith inspired his people to trust God to deliver them through the Red Sea.
Hebrews 11:23-29
Taught Sunday morning, June 18, 2023 by Brad D Harris
We hope that this online service has blessed you.  It is funded by the generous participants of Prairie Oaks Baptist Church.  If you would like to contribute to Prairie Oaks and their audio ministry, we have a donation page so that you can securely give online to help this ministry.  Thank you for listening and prayerfully supporting us.  I hope we continue to further you in your journey with Christ!
Podcast: Play in new window | Download