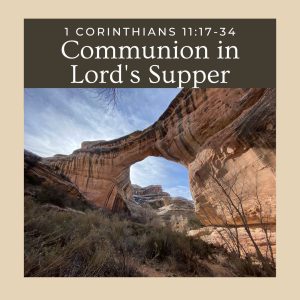 Paul had to correct the Corinthian believers where they were failing to discern the significance of the what he called the Lord's Supper. It was to be a time of communion with Christ as well as with one another in unity. And we learn much about this ordinance for our day as we read this letter over their shoulders.
1 Corinthians 11:17-34
Taught Sunday morning, August 13, 2023 by Brad D Harris
We hope that this online service has blessed you.  It is funded by the generous participants of Prairie Oaks Baptist Church.  If you would like to contribute to Prairie Oaks and their audio ministry, we have a donation page so that you can securely give online to help this ministry.  Thank you for listening and prayerfully supporting us.  I hope we continue to further you in your journey with Christ!
Podcast: Play in new window | Download