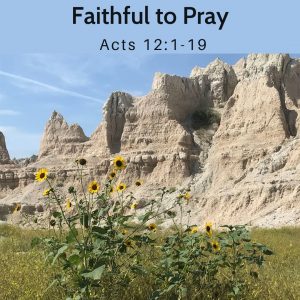 Persecution begins again for the church in Jerusalem. And this time, the first of the apostles is executed for his testimony of Jesus. And Peter is arrested and scheduled to be executed next. The church does not give up on praying to God. God answers prayers. He brought James home to be with him, a faithful witness. God delivered Peter from prison, in a way unexpected by the prayer meeting at Mary's house. Don't give up on praying to our Father. But trust the results to Him.
Acts 12:1-19 and Philippians 4:6-7 and 1 Peter 5:7
Taught Sunday morning, May 29, 2022 by Brad D Harris
(forgive the weak audio)
We hope that this online service has blessed you.  It is funded by the generous participants of Prairie Oaks Baptist Church.  If you would like to contribute to Prairie Oaks and their audio ministry, we have a donation page so that you can securely give online to help this ministry.  Thank you for listening and prayerfully supporting us.  I hope we continue to further you in your journey with Christ!
Podcast: Play in new window | Download