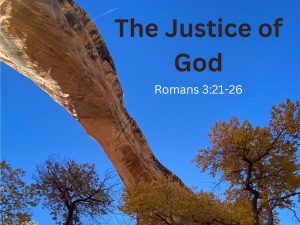 Justice is a core value of who God is. It is deplorable to Him when injustice takes place – both the punishment of good and the promotion of wickedness. Yet last week we saw that none of us are good. We all have sinned and enjoyed it, guilty before a righteous God. Thankfully mercy is also a core value. God the Father and God the Son orchestrated a plan before time in order to remain righteous and just while also rescuing sinful humans from sin in order to give them righteousness.
Proverbs 17:15 and Romans 3:21-26
Taught Sunday morning, February 26, 2023 by Brad D Harris
We hope that this online service has blessed you.  It is funded by the generous participants of Prairie Oaks Baptist Church.  If you would like to contribute to Prairie Oaks and their audio ministry, we have a donation page so that you can securely give online to help this ministry.  Thank you for listening and prayerfully supporting us.  I hope we continue to further you in your journey with Christ!
Podcast: Play in new window | Download