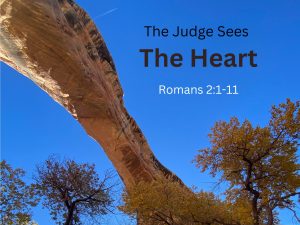 It is easy to fool some people. You might be able to fool everyone you know, at least for a little while. But Christ sees both the actions and the thoughts and intents of the heart. And we see that as much as He hates sin, hypocrisy is one of the worst. We are better off coming clean with Him now rather than ignoring the conviction of the Spirit regarding our sins, even our secret ones.
Romans 2:1-11
Taught Sunday morning, February 12, 2023 by Brad D Harris
We hope that this online service has blessed you.  It is funded by the generous participants of Prairie Oaks Baptist Church.  If you would like to contribute to Prairie Oaks and their audio ministry, we have a donation page so that you can securely give online to help this ministry.  Thank you for listening and prayerfully supporting us.  I hope we continue to further you in your journey with Christ!
Podcast: Play in new window | Download