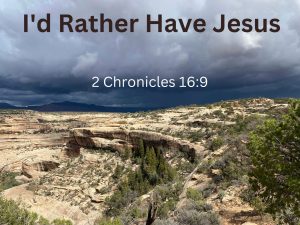 "The eyes of the LORD run to and fro over the whole earth to show Himself strong on behalf of them whose heart is loyal toward Him." God is looking for opportunities to do great things. Unfortunately the problem is on our end. We are missing out on His answers to prayer by not asking or by not believing fully in Him. Let us lean wholly on His everlasting arms.
May I suggest listening to George Beverly Shea sing, "I'd Rather Have Jesus" first?
2 Chronicles 16:9
Taught Sunday morning, October 30, 2022 by Brad D Harris
We hope that this online service has blessed you.  It is funded by the generous participants of Prairie Oaks Baptist Church.  If you would like to contribute to Prairie Oaks and their audio ministry, we have a donation page so that you can securely give online to help this ministry.  Thank you for listening and prayerfully supporting us.  I hope we continue to further you in your journey with Christ!
Podcast: Play in new window | Download