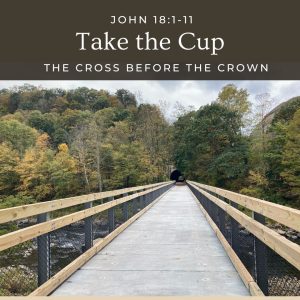 God received glory through the Son who received glory from the Father. But in the middle of this is an ugly cross.  And Jesus resolutely accepted the cup of wrath handed to Him.  But being human, Jesus still felt the sorrow and turmoil of making the decision to endure the pain and suffering.  But as our Savior, He did not sin and obeyed the plan of God.  And as our Lord, He calls us to follow Him through the cross to the crown.
John 18:1-11 and Matthew 26:36-42
Taught Sunday morning, October 22, 2023 by Brad D Harris
We hope that this online service has blessed you.  It is funded by the generous participants of Prairie Oaks Baptist Church.  If you would like to contribute to Prairie Oaks and their audio ministry, we have a donation page so that you can securely give online to help this ministry.  Thank you for listening and prayerfully supporting us.  I hope we continue to further you in your journey with Christ!
Podcast: Play in new window | Download