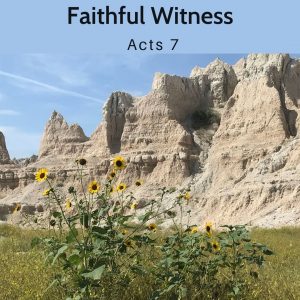 Stephen was full of faith and the Holy Spirit when he was chosen to help with the church's ministry to the widows. But his testimony for Jesus angered the Jewish authorities who decided to try him for blasphemy. But it was them who was proven guilty of blasphemy against God and His Holy presence as murderers of God's Messiah. Their outrage leads to the martyrdom of this faithful witness, but not before his testimony sets in motion the first great persecution of the church and sets a persecutor on the road to an unexpected end.
Acts 7
Taught Sunday morning, April 24, 2022 by Brad D Harris
We hope that this online service has blessed you.  It is funded by the generous participants of Prairie Oaks Baptist Church.  If you would like to contribute to Prairie Oaks and their audio ministry, we have a donation page so that you can securely give online to help this ministry.  Thank you for listening and prayerfully supporting us.  I hope we continue to further you in your journey with Christ!
Podcast: Play in new window | Download