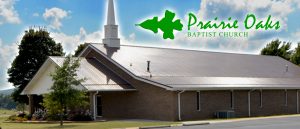 Prairie Oaks Baptist Church is a small town church with the Great Commission attitude.
We participate in the mission of the Baptist Missionary Association.
We are hungry to hear the Word of God from the Scriptures.
Meet us in person on Sunday mornings at:
402 Viney Grove Rd
Prairie Grove, Arkansas
Service times presently:
Sunday School at 10am
Morning Worship at 11am
Sunday evening Bible study at 6pm (on- and off-campus)
Wednesday Prayer and Bible study at 630pm
Find out more on Facebook at:
@prairieoaks
Watch our sermons on YouTube:
Prairie Oaks Pulpit
Listen to the podcast:
Prairie Oaks Pulpit
Email the pastor at:
prairieoaksbaptist@gmail.com
Our mailing address is:
PO Box 424
Prairie Grove, AR  72753
Thanks for visiting our website!