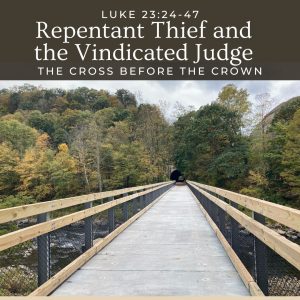 Part Two of The Judge Speaks
The Judge gave warning to those who rejected God's chosen Savior. Coupled with the warning is the offer of forgiveness for one's rejection of Jesus. The prayer of Jesus was graphically answered when one of the murderous thieves changes his mind about the Man on the middle cross. Fearing God, he admits his wrong and asks for mercy from the King and Judge of the living and the dead. And Jesus tells the repentant thief that he will join the King in the garden that day. Jesus knows His vindication will come from His Father. He too rests in the justice of God.
Luke 23:24-47
Taught Sunday morning, December 3, 2023 by Brad D Harris
We hope that this online service has blessed you.  It is funded by the generous participants of Prairie Oaks Baptist Church.  If you would like to contribute to Prairie Oaks and their audio ministry, we have a donation page so that you can securely give online to help this ministry.  Thank you for listening and prayerfully supporting us.  I hope we continue to further you in your journey with Christ!
Podcast: Play in new window | Download