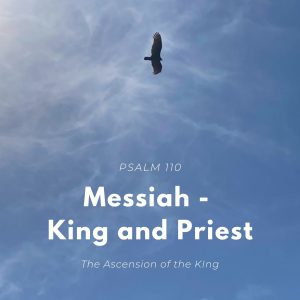 David was a prophet in that the Spirit revealed things about David's superlative descendant as David wrote his poetry for the Psalter.  The psalms are rich in messages about the Messiah.  Psalm 110 stands above many in the mysteries it reveals about the coming King and Priest and Judge.  We spend a few minutes unpacking the treasurers of Jesus placed within Psalm 110.
Psalm 110:1-7
Taught Saturday afternoon, May 29, 2021 by Brad D Harris
We hope that this online service has blessed you.  It is funded by the generous participants of Prairie Oaks Baptist Church.  If you would like to contribute to Prairie Oaks and their audio ministry, we now have a donation page so that you can securely give online to help this ministry.  Thank you for listening and prayerfully supporting us.  I hope we continue to further you in your journey with Christ!
Prairie Oaks Baptist Church
402 Viney Grove Road in Prairie Grove, AR
P.O. Box 424, Prairie Grove AR  72753
prairieoaksbaptist.com
on Facebook @prairieoaks
Podcast: Play in new window | Download