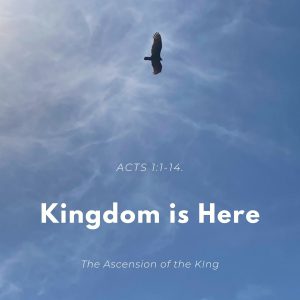 The King of kings was born humbly, anointed by the Holy Spirit at His baptism by John, manifested with power through miracles and teaching with authority. The King defeated His enemies: sin, death, the devil, and the grave. He was unmistakably proven that He is alive to His closest followers, empowering them to be witnesses of His kingdom. That is the their new commission, testify to the resurrection authority of the King who has ascended to His throne and is coming again in like manner.
Acts 1:1-14
Preached Sunday morning, May 16, 2021 by Brad D Harris
We hope that this online service has blessed you.  It is funded by the generous participants of Prairie Oaks Baptist Church.  If you would like to contribute to Prairie Oaks and their audio ministry, we now have a donation page so that you can securely give online to help this ministry.  Thank you for listening and prayerfully supporting us.  I hope we continue to further you in your journey with Christ!
Prairie Oaks Baptist Church
402 Viney Grove Road in Prairie Grove, AR
P.O. Box 424, Prairie Grove AR  72753
prairieoaksbaptist.com
on Facebook @prairieoaks
Podcast: Play in new window | Download