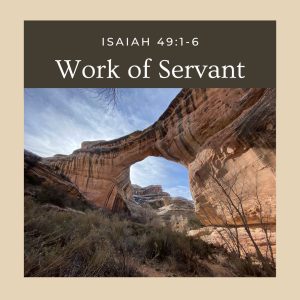 Have you wondered what of your work will lasts? Maybe all of us have. And often we should re-evaluate if our priorities are of eternal significance. But even seemingly insignificant work can be significant if it is done as to the Lord (Colossians 3:23). And if the Messiah was tempted to doubt the value of His efforts, He trusted that His reward was with the Lord. And His work would reap results to the ends of the earth. And we get to make that more true every day!
(I also included my "singing" of William Willliams' "Guide Me, O Thou Great Jehovah" but don't feel obligated to listen.)
Isaiah 49:1-6
Taught Sunday morning, July 30, 2023 by Brad D Harris
We hope that this online service has blessed you.  It is funded by the generous participants of Prairie Oaks Baptist Church.  If you would like to contribute to Prairie Oaks and their audio ministry, we have a donation page so that you can securely give online to help this ministry.  Thank you for listening and prayerfully supporting us.  I hope we continue to further you in your journey with Christ!
Podcast: Play in new window | Download