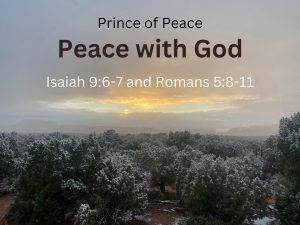 Peace is more than a cool down in hostilities.  In Hebrew, Shalom includes a wholeness from righteous rule that brings justice and fruitfulness for all.  And that kind of peace can only happen once we are at peace with God.  What does that mean?  Peace with God is when repentant sinners are surrendered to King Jesus to receive His forgiveness as purchased at His cross.  Hence He is known as the Prince of Peace.
Isaiah 9:6-7 and Romans 5:8-11
Taught Sunday morning, December 11, 2022 by Brad D Harris
We hope that this online service has blessed you.  It is funded by the generous participants of Prairie Oaks Baptist Church.  If you would like to contribute to Prairie Oaks and their audio ministry, we have a donation page so that you can securely give online to help this ministry.  Thank you for listening and prayerfully supporting us.  I hope we continue to further you in your journey with Christ!
Podcast: Play in new window | Download