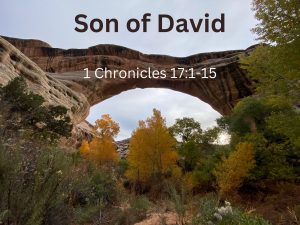 David is pretty heroic in Sunday School stories, pretty cringe-worthy at other points in his life. Yet God made a BIG promise to David that people are still talking about it in eternity. God would establish a "house" for David so that the Son of David would establish a "house" for God and be established in God's kingdom forever. With all the talk about "seed" and "forever" it makes you wonder how anyone got confused about this covenant ever being about a temple in Jerusalem. It is so much bigger than that.
1 Chronicles 17:1-15
Taught Sunday morning, December 4, 2022 by Brad D Harris
We hope that this online service has blessed you.  It is funded by the generous participants of Prairie Oaks Baptist Church.  If you would like to contribute to Prairie Oaks and their audio ministry, we have a donation page so that you can securely give online to help this ministry.  Thank you for listening and prayerfully supporting us.  I hope we continue to further you in your journey with Christ!
Podcast: Play in new window | Download