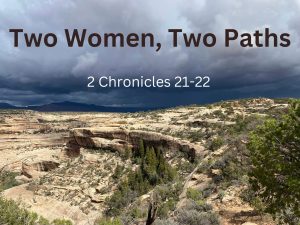 Jehoshaphat brought the house of Ahab into the house of David and nearly brought the end of the line of David with it. In two generations, there seemed to be none left to carry on and the promise of God in jeopardy. But God is faithful. And He is often at work in ways we cannot see.  And two women are pivotal in this story, each taking a different path to greatness.
2 Chronicles 21-22
Taught Sunday morning, August 20, 2023 by Brad D Harris
We hope that this online service has blessed you.  It is funded by the generous participants of Prairie Oaks Baptist Church.  If you would like to contribute to Prairie Oaks and their audio ministry, we have a donation page so that you can securely give online to help this ministry.  Thank you for listening and prayerfully supporting us.  I hope we continue to further you in your journey with Christ!
Podcast: Play in new window | Download