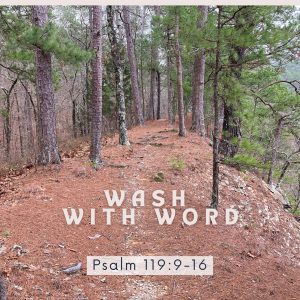 How shall a person be cleansed from sin? By guarding their way with the Word of God. We cover a lot of ground for this Bible study as we look a lot of Psalms that are examples of doctrine, reproof, correction, and instruction in righteousness.
Psalm 119:9-16, 18
Ephesians 5:25-27 2 Timothy 3:16-17
Brad's thought verses: Philippians 4:6-8 2 Corinthians 10:3-5 Romans 12:1-2 Psalm 19:12-14 Psalm 139:23-24
Doctrine: Psalm 68:5-6 Psalm 103:8-13 Psalm 136:1
Reproof: Psalm 27:1 Psalm 42:11 Psalm 121:1-2
Correction: Psalm 19:12-14 Psalm 139:23-24
Instruction in Righteousness: Psalm 37:4-5, 23-24 Psalm 118:8, 24
D.L. Moody – "The Bible was not given to increase our knowledge, but to change our lives."
Taught Sunday morning, March 6, 2022 by Brad D Harris
We hope that this online service has blessed you.  It is funded by the generous participants of Prairie Oaks Baptist Church.  If you would like to contribute to Prairie Oaks and their audio ministry, we have a donation page so that you can securely give online to help this ministry.  Thank you for listening and prayerfully supporting us.  I hope we continue to further you in your journey with Christ!
Podcast: Play in new window | Download