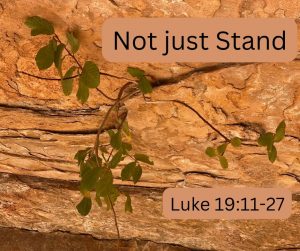 We enjoyed having Jake and his family share with us their testimony of God's faithfulness and their mission project in the other "battlefield town."  Plus he preaches to us of the importance of Standing Firm and not falling away in challenging times.  But the Word of God calls us to more than standing, we need to be contributing to the kingdom of God.
Luke 19:11-27
Taught Sunday morning, October 16, 2022 by Jake McCandless
We hope that this online service has blessed you.  It is funded by the generous participants of Prairie Oaks Baptist Church.  If you would like to contribute to Prairie Oaks and their audio ministry, we have a donation page so that you can securely give online to help this ministry.  Thank you for listening and prayerfully supporting us.  I hope we continue to further you in your journey with Christ!
Podcast: Play in new window | Download