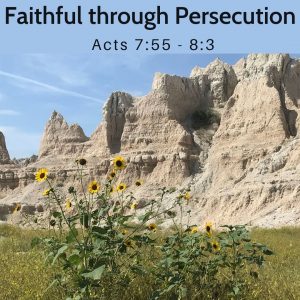 Stephen was a faithful witness, even through opposition, persecution, and death.  But the seeds of the gospel that he had sown in his death did not produce immediate fruit.  Instead, a chief persecutor arose who wreaked havoc on the church, scattering them from Jerusalem.  Why would God allow this to happen to His infant church?  Instead, Jesus prepared His followers for this eventuality, knowing that what the world had done to Him, the world would do to His followers.  And He prepared His followers with great promises that His faithfulness would empower them to be faithful.
Acts 7:55 – 8:3
Taught Sunday morning, May 1, 2022 by Brad D Harris
We hope that this online service has blessed you.  It is funded by the generous participants of Prairie Oaks Baptist Church.  If you would like to contribute to Prairie Oaks and their audio ministry, we have a donation page so that you can securely give online to help this ministry.  Thank you for listening and prayerfully supporting us.  I hope we continue to further you in your journey with Christ!
Podcast: Play in new window | Download