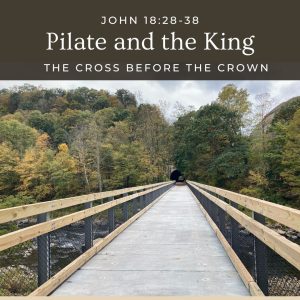 The Jewish authorities had already decided to have Jesus executed and intended to get the Roman authorities to do the dirty work for them. Pilate however is uncooperative at first and decides to hear Jesus for himself to know who this Man is who is called the King of the Jews. Pilate gets more truth than he is interested in hearing and misses out on the answer to his question.
John 18:28-38
Taught Sunday morning, November 12, 2023 by Brad D Harris
We hope that this online service has blessed you.  It is funded by the generous participants of Prairie Oaks Baptist Church.  If you would like to contribute to Prairie Oaks and their audio ministry, we have a donation page so that you can securely give online to help this ministry.  Thank you for listening and prayerfully supporting us.  I hope we continue to further you in your journey with Christ!
Podcast: Play in new window | Download