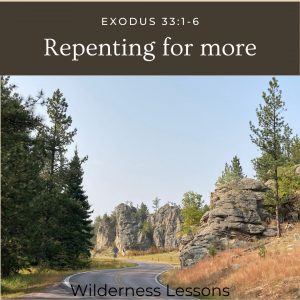 The children of Israel had broken the covenant of love and broken the heart of God with their traitorous turn with the golden calf. Moses had successfully pleaded with God to turn away His wrath. But the people would need to turn from their sinful attitude if they wanted God to still be in their presence. That turning is called "repentance." And it's kind of a big deal.  But it is the path to a closer vision of God.
Exodus 33:1-6 and Luke 3:1-14
Taught Sunday morning, September 5, 2021 by Brad D Harris
We hope that this online service has blessed you.  It is funded by the generous participants of Prairie Oaks Baptist Church.  If you would like to contribute to Prairie Oaks and their audio ministry, we now have a donation page so that you can securely give online to help this ministry.  Thank you for listening and prayerfully supporting us.  I hope we continue to further you in your journey with Christ!
Podcast: Play in new window | Download