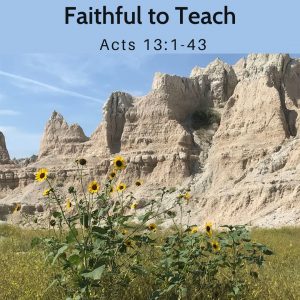 Paul and Barnabas start their first missionary journey by direction of Holy Spirit to go to Cyprus and to points beyond. Luke shares the sermon Paul preached when invited to speak at the synagogue in Antioch Pisidia. Starting in the Jewish Scriptures, he shows that God fulfills His promises through Jesus Christ, the Son of David, crucified and resurrected as promised. And through faith in Christ, we can be reconciled to God, forgiven of our sins against Him.
Acts 13:1-43
Taught Sunday morning, June 5, 2022 by Brad D Harris
We hope that this online service has blessed you.  It is funded by the generous participants of Prairie Oaks Baptist Church.  If you would like to contribute to Prairie Oaks and their audio ministry, we have a donation page so that you can securely give online to help this ministry.  Thank you for listening and prayerfully supporting us.  I hope we continue to further you in your journey with Christ!
Podcast: Play in new window | Download