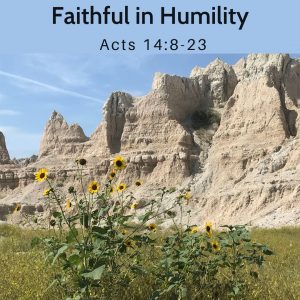 Barnabas and Paul get chased from one town and preach in the next town. Lystra of Lycaonia presents a new challenge for the apostles. A miraculous healing prompts the locals to think that Paul and Barnabas are the pagan gods in disguise. It's all the apostles can do to convince the multitude that worship belongs to the Living God, Creator of heaven and earth. Their testimony of humility is eclipsed by their testimony of faithfulness as they continue to testify even after Paul is nearly murdered in Lystra.
Acts 14:8-23
Taught Sunday morning, June 12, 2022 by Brad D Harris
We hope that this online service has blessed you.  It is funded by the generous participants of Prairie Oaks Baptist Church.  If you would like to contribute to Prairie Oaks and their audio ministry, we have a donation page so that you can securely give online to help this ministry.  Thank you for listening and prayerfully supporting us.  I hope we continue to further you in your journey with Christ!
Podcast: Play in new window | Download