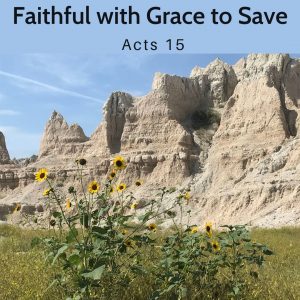 The Messiah is Jewish. Do His Gentile followers need to become Jewish or is He Jewish enough for them too? The question vexed some of the early believers who could only imagine God working through the old covenants given to Abraham and Moses. But some insisted that the new covenant in Christ's death and resurrection replaced the old covenants. How would the dispute be settled? They saw what God was doing among the Gentiles coincided with what God said He would do in the Law and Prophets. He would be faithful with grace to forgive any and everyone who trusts Him to save.
Acts 15:1-21
Taught Sunday morning, June 19, 2022 by Brad D Harris
(he didn't stay behind the microphone)
We hope that this online service has blessed you.  It is funded by the generous participants of Prairie Oaks Baptist Church.  If you would like to contribute to Prairie Oaks and their audio ministry, we have a donation page so that you can securely give online to help this ministry.  Thank you for listening and prayerfully supporting us.  I hope we continue to further you in your journey with Christ!
Podcast: Play in new window | Download