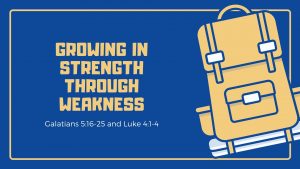 Growing in body.  In some ways, this is easier done than we would like to admit.  But that leads to the point, growing in control over this body is significantly more difficult than being controlled by this body.  Hence the reason that January 19 is Quitters Day, the average time when new year resolutions to get healthy are abandoned.  But this message is about more than being healthy in this physical body, it is also about not being slaves to the physical when the spiritual is what is eternal.
Pray for me in this area, and I will pray for you!
Christ accomplished the victory even over the body!
Luke 2:52 and Galatians 5:16-25 and Luke 4:1-4
Preached Sunday morning, January 19, 2020 by Brad D Harris
Podcast: Play in new window | Download