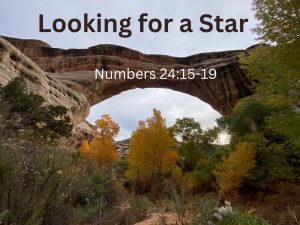 Balaam was a famous seer and influential man among the gods. But something out of his ordinary happened when he accepted the task of trying to curse the chosen people of the LORD. He could not curse but was forced to utter blessing. And he saw a future King who would change the world of the Gentiles. And wise men began watching for the sign of this coming King – the Star.
Numbers 24:15-19
Taught Sunday morning, November 20, 2022 by Brad D Harris
We hope that this online service has blessed you.  It is funded by the generous participants of Prairie Oaks Baptist Church.  If you would like to contribute to Prairie Oaks and their audio ministry, we have a donation page so that you can securely give online to help this ministry.  Thank you for listening and prayerfully supporting us.  I hope we continue to further you in your journey with Christ!
Podcast: Play in new window | Download