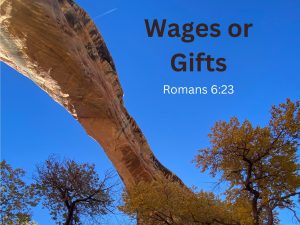 Paul uses an analogy that he says is imperfect but still communicates an essential lesson for us. We have been set free from sin as a slave-master whose wages are corruption, shame, and death. Now that we belong to Christ, why would someone want to still want to work a second job for sin? Sin still pays corruption, shame, and death. Instead, we should work wholehearted for Christ who doesn't just give us wages but He gifts us right-living, holiness, and eternal life.
Romans 6:23
Taught Sunday morning, May 7, 2023 by Brad D Harris
We hope that this online service has blessed you.  It is funded by the generous participants of Prairie Oaks Baptist Church.  If you would like to contribute to Prairie Oaks and their audio ministry, we have a donation page so that you can securely give online to help this ministry.  Thank you for listening and prayerfully supporting us.  I hope we continue to further you in your journey with Christ!
Podcast: Play in new window | Download