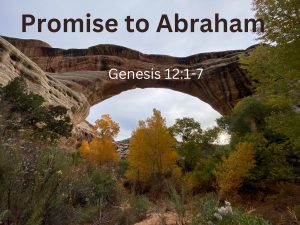 We continue our series following just some of the many promises by God that build up the anticipation for the Messiah's arrival in the incarnation that we know as Christmas.  And the covenant promises that the LORD made to Abram (later Abraham) are pivotal in that understanding.  The Messiah as a descendant of Abraham will bless all of the scattered families and tribes of the earth with the opportunity to know the LORD God and be reconciled to Him.
Genesis 11:27 – 12:7
Taught Sunday morning, November 13, 2022 by Brad D Harris
We hope that this online service has blessed you.  It is funded by the generous participants of Prairie Oaks Baptist Church.  If you would like to contribute to Prairie Oaks and their audio ministry, we have a donation page so that you can securely give online to help this ministry.  Thank you for listening and prayerfully supporting us.  I hope we continue to further you in your journey with Christ!
Podcast: Play in new window | Download