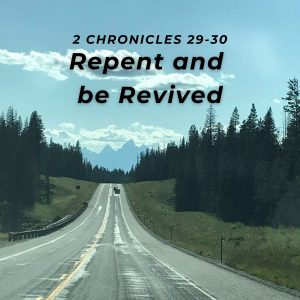 Hezekiah was a different man from everyone else, especially different from his father, Ahaz – a wicked king. Hezekiah started from his first day to reignite the worship of the True God. He called upon God's ministers to start the process of consecrating themselves and the holy places of God.
Quickly, they got to work and began sanctifying the house of God for worship. By the end of the month, the order of worship was active in the temple. This prompted Hezekiah to call for national repentance and commitment to the LORD through a special Passover celebration.  Confession, Contrition, and Consecration.   And the people responded because God had prepared hearts in His people to seek Him. Revival was afire.
2 Chronicles 29-30
Taught Sunday morning, July 3, 2022 by Brad D Harris
We hope that this online service has blessed you.  It is funded by the generous participants of Prairie Oaks Baptist Church.  If you would like to contribute to Prairie Oaks and their audio ministry, we have a donation page so that you can securely give online to help this ministry.  Thank you for listening and prayerfully supporting us.  I hope we continue to further you in your journey with Christ!
Podcast: Play in new window | Download