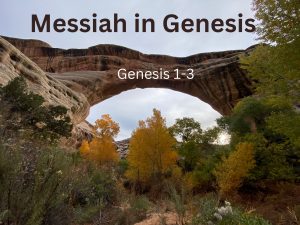 There is so much joy at the announcement and birth of Jesus the Messiah. The anticipation had built for so long with promises made and symbolic teasers revealed. We want to spend a couple weeks letting the excitement build as we approach this Christmas. And the beginning of the story is the beginning of it all – Genesis.
Genesis 1-3
Taught Sunday morning, November 6, 2022 by Brad D Harris
We hope that this online service has blessed you.  It is funded by the generous participants of Prairie Oaks Baptist Church.  If you would like to contribute to Prairie Oaks and their audio ministry, we have a donation page so that you can securely give online to help this ministry.  Thank you for listening and prayerfully supporting us.  I hope we continue to further you in your journey with Christ!
Podcast: Play in new window | Download