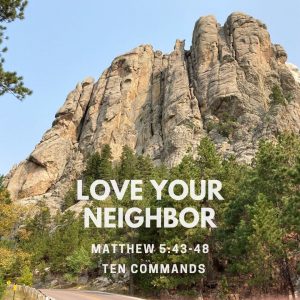 Jesus summed up all the Law and Prophets into two commands: Love God and love your neighbor (Matt 22:35-40). And for some reason, this can be more convicting than the individual commands He gave at Sinai. And the last few months and especially the last week has revealed in town hall meetings that even Christians fail miserably with the command to love your neighbor as yourself.
Matthew 5:43-48
Taught Sunday morning, August 15, 2021 by Brad D Harris
We hope that this online service has blessed you.  It is funded by the generous participants of Prairie Oaks Baptist Church.  If you would like to contribute to Prairie Oaks and their audio ministry, we now have a donation page so that you can securely give online to help this ministry.  Thank you for listening and prayerfully supporting us.  I hope we continue to further you in your journey with Christ!
Podcast: Play in new window | Download