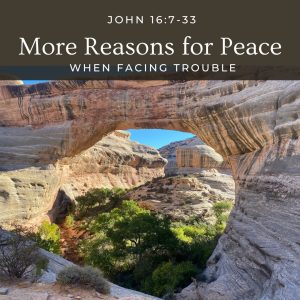 Jesus warns His apostles that trouble is coming that would squeeze the life out of them and try to make them fall away. And that He would not be physically with them as these troubles came. But in His warning, He also gives reasons for hope. They won't be alone just the same as He wasn't really alone when His followers fled. Through the Holy Spirit who would indwell them after Jesus departed, they would be equipped to not only can they survive, but they can overcome because Christ overcame through the Spirit. Not only do they have reasons for peace, but Christ gives them joy to the full.
John 16:7-33
Taught Sunday morning, September 17, 2023 by Brad D Harris
We hope that this online service has blessed you.  It is funded by the generous participants of Prairie Oaks Baptist Church.  If you would like to contribute to Prairie Oaks and their audio ministry, we have a donation page so that you can securely give online to help this ministry.  Thank you for listening and prayerfully supporting us.  I hope we continue to further you in your journey with Christ!
Podcast: Play in new window | Download