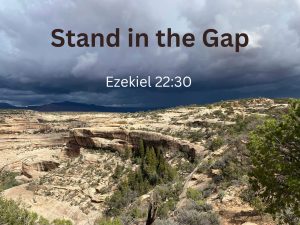 The LORD sought for someone to intercede to Him on behalf of the people and maybe to turn the tide back toward God. But there was neither anyone qualified and able to do that. Nor were the people willing to be led toward a change of mind, much less a change of behavior. Thus that generation would experience the just return for their wicked behavior. Will we?
Ezekiel 22:30
Taught Sunday morning, September 3, 2023 by Brad D Harris
We hope that this online service has blessed you.  It is funded by the generous participants of Prairie Oaks Baptist Church.  If you would like to contribute to Prairie Oaks and their audio ministry, we have a donation page so that you can securely give online to help this ministry.  Thank you for listening and prayerfully supporting us.  I hope we continue to further you in your journey with Christ!
Podcast: Play in new window | Download