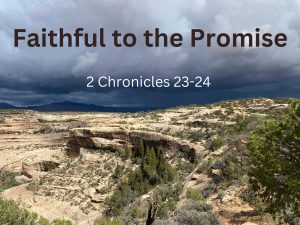 The LORD is faithful to His promises and He used a faithful young woman, Jehoshebeath, to secretly preserve the life of an infant descendant of King David. She raised him within the refuge of the temple of the LORD and its precincts until he was seven years old. Then the faithful high priest, Jehoiada, to orchestrate a reversal and justice to restore the throne of Jerusalem to God's appointed family of David. And thus began a remarkable revival of true worship of the true God of Israel, at least as long as Jehoiada was alive to lead it.
2 Chronicles 23-24
Taught Sunday morning, August 27, 2023 by Brad D Harris
We hope that this online service has blessed you.  It is funded by the generous participants of Prairie Oaks Baptist Church.  If you would like to contribute to Prairie Oaks and their audio ministry, we have a donation page so that you can securely give online to help this ministry.  Thank you for listening and prayerfully supporting us.  I hope we continue to further you in your journey with Christ!
Podcast: Play in new window | Download