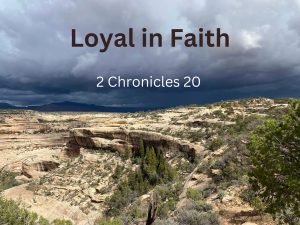 "The eyes of the LORD run to and fro throughout the whole earth to show Himself strong in behalf of them whose heart is pure toward Him." (2 Chronicles 16:9).
Jehoshaphat is tested later in his life to see his devotion and dependence upon the God of Israel. The good king's faith is not in vain. The LORD delivers so that we too will know that the battle is not ours but is the LORD's. Just trust in Him.
2 Chronicles 20
Taught Sunday morning, July 16, 2023 by Brad D Harris
We hope that this online service has blessed you.  It is funded by the generous participants of Prairie Oaks Baptist Church.  If you would like to contribute to Prairie Oaks and their audio ministry, we have a donation page so that you can securely give online to help this ministry.  Thank you for listening and prayerfully supporting us.  I hope we continue to further you in your journey with Christ!
Podcast: Play in new window | Download