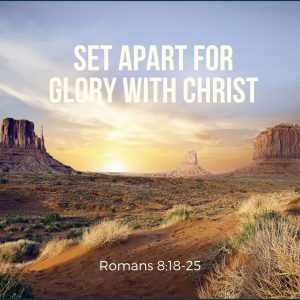 Romans 8 has so much going on that we don't do it justice. The glorification of the believer in Christ Jesus is so much more than we can do justice. But we examine where Romans 8 touches on our culminating gift of salvation, where we are freed from the presence of sin on the other side of death. And how all of creation eagerly anticipates that revelation.
We hope that this online service has blessed you.  It is funded by the generous participants of Prairie Oaks Baptist Church.  If you would like to contribute to Prairie Oaks and their audio ministry, we now have a donation page so that you can securely give online to help this ministry.  Thank you for listening and prayerfully supporting us.  I hope we continue to further you in your journey with Christ!
Romans 8, 1 Corinthians 15, Revelation 21-22 and more.
Preached Sunday morning, January 17, 2021 by Brad D Harris
Prairie Oaks Baptist Church
402 Viney Grove Road in Prairie Grove, AR
P.O. Box 424, Prairie Grove AR  72753
prairieoaksbaptist.com
on Facebook @prairieoaks
Podcast: Play in new window | Download