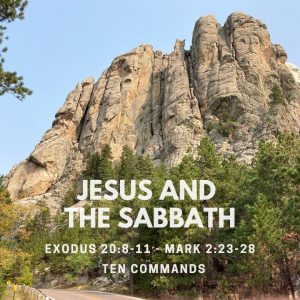 The LORD set the pattern from the beginning of creation. The LORD applied it as He gave them manna in the wilderness. Six days of usual work. Seventh day was for rest and time with God. But after generations of ignoring the Sabbath, the LORD exiled them from the promised land. When the children of Israel returned, the Pharisees educated and enforced the Sabbath rules they had made to protect the command. Jesus came and said they missed the point. The Sabbath was made for man, not vice versa.
Exodus 20:8-11 and Mark 2:23-28
Taught Sunday morning, July 11, 2021 by Brad D Harris
We hope that this online service has blessed you.  It is funded by the generous participants of Prairie Oaks Baptist Church.  If you would like to contribute to Prairie Oaks and their audio ministry, we now have a donation page so that you can securely give online to help this ministry.  Thank you for listening and prayerfully supporting us.  I hope we continue to further you in your journey with Christ!
Podcast: Play in new window | Download