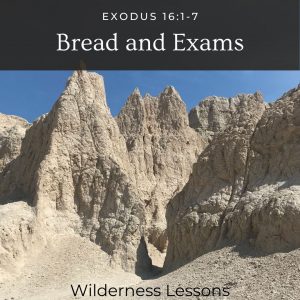 Within a month of their miraculous deliverance from Egypt followed by the Red Sea crossing, the children of Israel are having second thoughts on having left their slavery. Their food ran out. But the LORD allowed them to hunger in order to test them and feed them in His own miraculous way. But the manna from heaven was only a physical symbol of a spiritual reality that we all need to learn. Man does not live by bread alone, but by every word that proceeds from God.
Exodus 16:1-7 and Deuteronomy 8:2-3
Preached Sunday morning, April 18, 2021 by Brad D Harris
We hope that this online service has blessed you.  It is funded by the generous participants of Prairie Oaks Baptist Church.  If you would like to contribute to Prairie Oaks and their audio ministry, we now have a donation page so that you can securely give online to help this ministry.  Thank you for listening and prayerfully supporting us.  I hope we continue to further you in your journey with Christ!
Prairie Oaks Baptist Church
402 Viney Grove Road in Prairie Grove, AR
P.O. Box 424, Prairie Grove AR  72753
prairieoaksbaptist.com
on Facebook @prairieoaks
Podcast: Play in new window | Download