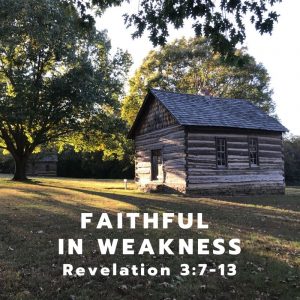 Ever feel like that there are so many obstacles and closed doors slammed in your face?  What is one to do?  The little church in Philadelphia was feeling weak and excluded.  But Christ reminded them that He had opened the most important door unto them, the one into heaven!  And they would enter that door victorious as they remained faithful in spite of their weakness.  In weakness is where the Lord's strength is glorified.
This is the sixth in a seven-part sermon series on church revitalization.
I also included a testimony that the audio is difficult to hear (just a minute or so into the message) but if you can hear it, it's a blessing.
Revelation 3:7-13
Preached Sunday morning, December 8, 2019 by Brad D Harris
Podcast: Play in new window | Download
Subscribe: Apple Podcasts | RSS | More