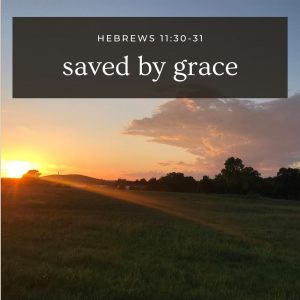 Rahab teaches us as much about Jesus as Joshua does.  She enters the story with a sordid reputation that tarnishes nearly everyone who associates with her. Yet she is crucial to knowing God and the work that the LORD was doing with the Israelites and Canaanites. So much so that the New Testament reveals more about her and through her than the Hebrew Scriptures do.  We are all more like Rahab than we may realize.
Sinners saved by grace.
We hope that this online service has blessed you.  It is funded by the generous participants of Prairie Oaks Baptist Church.  If you would like to contribute to Prairie Oaks and their audio ministry, we now have a donation page so that you can securely give online to help this ministry.  Thank you for listening and prayerfully supporting us.  I hope we continue to further you in your journey with Christ!
Hebrews 11:30-31
Preached Sunday morning, August 2, 2020 by Brad D Harris
Prairie Oaks Baptist Church
402 Viney Grove Road in Prairie Grove, AR
P.O. Box 424, Prairie Grove AR  72753
prairieoaksbaptist.com
on Facebook @prairieoaks
Podcast: Play in new window | Download
Subscribe: Apple Podcasts | Android | RSS | More