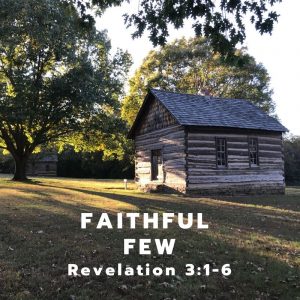 While it is important to have a good reputation, it is infinitely more important to have a good evaluation by the Judge of all the earth, Jesus Christ.  The church is Sardis had the reputation, but their evaluation from the Lord was that they were dead and dying.  Few were alive in Christ and faithful but even those parts were dying and needed rekindled.  Yet the Savior brings the dead back to life, if only they will repent.  What does the Spirit say to us?
This is the fifth in a seven-part sermon series on church revitalization.
We hope that this online service has blessed you.  It is funded by the generous participants of Prairie Oaks Baptist Church.  If you would like to contribute to Prairie Oaks and their audio ministry, we now have a donation page so that you can securely give online to help this ministry.  Thank you for listening and prayerfully supporting us.  I hope we continue to further you in your journey with Christ!
Revelation 3:1-6
Preached Sunday morning, December 1, 2019 by Brad D Harris
Join us Sundays at 11am at Prairie Oaks Baptist Church, 402 Viney Grove Road in Prairie Grove, AR
prairieoaksbaptist.com
on Facebook @prairieoaks
Podcast: Play in new window | Download
Subscribe: Apple Podcasts | Android | RSS | More